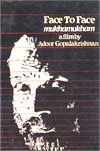 MUKHAMUKHAM
Face to Face
---
Adoor Gopala Krishnan
1984
---
Production: General Pictures
---

Story: Adoor Gopalakrishnan
Camera: Ravi Varma
Music: M.B. Srinivasan
Starring: P. Ganga, Balan K. Nair, Kaviyoor Ponnamma, Krishna Kumar, Karamana, Thilakan, Vishwanathan, Ashokan, Lalitha

---


"Mukhamukam" (Face to face), is an example of where the director's intentions are not always clearly communicated to the audience. Mirroring the fortunes and debacles of the Communist Party of Kerala, the film depicts Sridharan, a small town revolutionary, who successfully unites industrial labourers to fight for their rights. Eventually, in Sridharan's absence, some of the leaders of this labour union form the ruling political party. In the second-half of the film, one sees Sridharan, who had gone into hiding for ten years return to his town. However, he is no longer the torch-bearer for society who had once been a source of inspiration to many. He returns as drunkard and a wastrel. Sridharan is in fact a projection of the people's own selves and thus an inconvenient and embarrassing revelation. Unable to face the reality and the human weaknesses of their hero, someone eventually kills Sridharan, and the film ends with the whole society resurrecting an untarnished image of the man.

One of the themes that Gopalakrishnan explores in this film is how, over time, people mould reality to suit their perceptions. What is interesting but is often missed by film-goers, is that in the first half of the film one does not to get to see Sridharan as he actually is. One sees Sridharan through the selective memories of other characters. Also in his desire to show "a society in crisis," Gopalakrishnan eschews a narrative plot and the individual nuances of a character.


Biofilmography
Adoor GopalaKrishnan was born in the Adoor village of Kerala in 1941. Kathakali was part of life, when he was a kid, in the family. But later, the theatre and camera took that place. By the time he entered the Film and Television Institute of India (FTII) in Pune in 1962, he had already written over a dozen plays and produced eight. Adoor made several documentaries and films which won several national and international awards.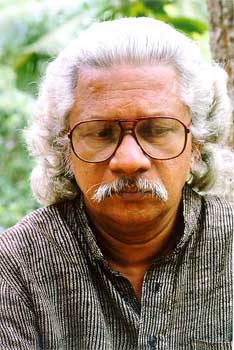 Films
1972: Swayamvaram (One's Own Choice)
1977: Kodiyettam (Ascent)
1981: Elippathayam (Rat Trap)
1984: Mukhamukham(Face to Face)
1987: Anantaram (Monologue)
1989: Mathilukal (The Walls)
1993: Vidheyan (The Servile)
1995: Kathapurushan (Man of the Story)