---
---
Malayalam Movies -- My favourite Movies, Actors and Actresses
Malayalam film industry is blessed with many talented artists and directors. Mammootty, Mohan Lal, Murali, Thilakan, Nedumudi Venu, Srinivasan, Bala Chandra Menon, Madhu, Lal, Jayaram, Suesh Gopi, Jagathy Sreekumar, Innocent, Manju Varrier, Samyuktha Varma, and Jomol are some of those great artists who made many Malayalees proud by their wonderful performances. We have some great directors like Adoor Gopala Krishnan, Aravindan, Shaji N Karun, T V Chandran, Fazil, Priyadarsan, Sibi Malayil, Kamal, Lohitha Das, Bharathan, I V Shashi, Jayaraj, Sathyan Anthikkaadue etc.. who have given us some wonderful films!


Malayalam movies are famous for their 'theme'. Directors like Srinivasan and Jayaraj have made great movies within a very low-budget. Talent is a must to survive in Malayalam movie industry, and that gives the movie goers the refined performance from their beloved artists.


Mammootty's great performance include:

Basheer in 'Mathilukal' (Adoor Gopala Krishnan, 1989)
Bhaskara Patelar in 'Vidheyan' (Adoor Gopala krishnan, 1993)
Thacholi Chanthu in 'Oru Vadakkan Veera Gaatha' (Hariharan, 1989)
Vidhyadharan in 'Bhoothakkannadi'(A.K. Lohithadas, 1998)
Maada in 'Ponthan Maada' (T. V. Chandran, 1993)
BalaGopalan in 'Thaniyaavarthanam' (Sibi Malayil)
Also, his performance in Mrugaya (IV Shashi) and Amaram (Bharathan, 1991) is excellent.
Mohanlal has given excellent performance as: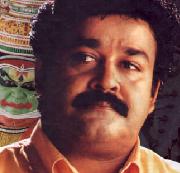 Kunhikkuttan in 'Vaanaprastham' (Shaji .N. Karun , 1999)
Kaloor Gopinathan in 'Bharatham' (Sibi Malayil, 1991)
Sethu Madhavan in 'Kireedam' (Sibi Malayil, 1989)
Nandagopan in 'Kamaladalam' (Sibi Malayil, 1992)
Dr. Sunny in 'Manichithrathaazhue' (Fazil, 1993)
Govardhan in 'Kalapani' (Priyadarshan, 1996)
Also, his performance in 'Devasuram'(I. V. Shashi, 1993) is remarkable.
Suresh Gopi has won movie goers' heart as: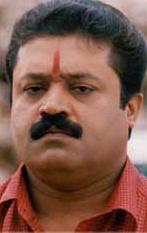 Kannan Peru Malayan in Kaliyaattam (Jayaraj , 1997)
Aromal chekavar in 'Oru Vadakkan Veera Gaatha' (Hariharan, 1989)
Also, he has done quite a great job in Manichithra Thaazhue, Aadharam, Dhruvam and Sadaram. He is 'The Dynamic Hero of the Most Realistic World of Indian Movies'.
Most favourite...
My most favourite movie is Chemmeen (directed by Ramu Kariat , 1965) starring Satyan, Madhu, and Sheela. This movie is based on a novel by Thakazhi. There are some ever-green songs in this movie, composed by Salil Choudhury.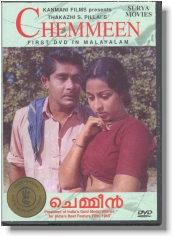 Synopsis:
Chemmeen centers around an arrogant and ambitious fisherman, Chembankunju, whose only aim is to own a boat and net. Sacrificing the little joys and pleasures in life, he succeeds in buying a boat and net with the help of Pareekutty, a young Muslim trader, on condition that the fish hauled by the boat will be boat will be sold to him.
Chembankunju's daughter, Karuthamma, and Pareekutty love each other deeply. Their love violates social taboos. Karuthama, realizing the futility of their love, forsakes her love for Pareekutty and marries Palani, an orphan discovered by her father.
In time, Chembankunju becomes greedy and heartless. He breaks his promise to Pareekutty and refuses to sell him fish. He drives Pareekutty to bankruptcy and ruin. Chembankunju even forsakes his friends. After his wife's death, he marries Khaki, a widow of rich woman from whom he bought his first boat.
Meanwhile, Karuthamma endeavors to build a happy home. She remains loyal and faithful to Palani. But, rumors about her love for Pareekutty spreads through the village and haunts Palani. Palani's friends ostracize him and refuse to take him fishing. Karuthama swears her fidelity to Palani, who believes her and goes fishing alone.
While Palini is at sea, the Karuthamma and Pareekutty meet by chance. Old passions are awakened and they join in a forbidden embrace. Meanwhile, out at sea Palani encounters rough seas while trying to bait a shark. The ancient code is defied and the Goddess of the Sea exacts a terrible revenge.
See the picture that won the coveted President of India's Gold Medal in 1965. See the movie that redefined Malayalam cinema and remains to this day as fresh as ever.


Check out my Malayalam Movie Database:
Search for movies of your favourite artist...
Malayalam Movie Database


Check out my Malayalam Actress Gallery:
Malayalam Actress Gallery - Page 1
Malayalam Actress Gallery - Page 2
Malayalam Actress Gallery - Page 3
Check out my Malayalam Actors Gallery:
Malayalam Actors Gallery - Page 1
Malayalam Actors Gallery - Page 2
Malayalam Actors Gallery - Page 3
Some useful sites for the Bay Area Malayalees like me!
India Movie Center Six, Sunnyvale
NAZ8 Movie Theatre, Fremont
Malayalam Movie Show