KATHAPURUSHAN
Man of the story
---
Adoor Gopala Krishnan
1995
---
Production: An NHK Co-Production

---

Story: Paul Zacharia
Camera: Ravi Varma
Music: Vijaya Bhaskar
Starring: Viswanathan, Akhil, Midhun, Urmira Unni, Mini, Sreeja, Aranmula Ponnamma


---
In this powerful commentry on his own times, Adoor goes back to the politically turbulent years between 1937 and 1980, charting Kunjunni's journey through life against the background of the independence movement, and later the rise and fall of the left movement in Kerala. Kathapurushan was selected Best Film of the Year in India in 1995 and won awards at various film festivals.
Kunjunni, born into a traditional landowning family, grows up without ever knowing his father - indeed, without ever being told anything about him. His mother is often ill and occasionally bed-ridden. What might be a recipe for a misfit, however, produces instead a warm-hearted, gentle boy. Perhaps it is due to the love and care lavished on the boy by his doting grandmother, by his devoted estate manager, and by his charming playmate Meenakshi, the daughter of a maid.


This world of childhood innocence and affection (however imperfect), is rudely jarred by events in the larger society. Under Gandhi, India wins its independence from Britain, and radical social change is in the offing. By the time Kunjunni goes off to university, his sweetness has matured into a political idealism. This finds expression at first in his adherence to communist ideology. Despite his landowning background, he is one of many youths galvanized to action in this way. In his own state of Kerala, the world's first democratically elected communist government assumes office and begins to reform the system of land ownership. Kunjunni's family thus faces an external economic crisis at the same time that internal forces seem to be pulling it apart. Kunjunni's mother succumbs to illness and dies. Meanwhile, Meenakshi has grown up into a beautiful young woman, very supportive of Kunjunni.

Kunjunni's communism has been idealistic, an intellectual commitment to ridding society of evil and redressing unfairness by nonviolent political activity. Nevertheless, he finds himself thrown into jail as the member of a radical group. Nor is that his only difficulty: now his grandmother, the mainstay of the family, passes away. At least his legal troubles are resolved: he is found innocent and released. He vows to begin a new life, together with Meenakshi. He has grown up, won his independence in turbulent times. When he has all but forgotten his father, suddenly he receives some news...


Biofilmography
Adoor GopalaKrishnan was born in the Adoor village of Kerala in 1941. Kathakali was part of life, when he was a kid, in the family. But later, the theatre and camera took that place. By the time he entered the Film and Television Institute of India (FTII) in Pune in 1962, he had already written over a dozen plays and produced eight. Adoor made several documentaries and films which won several national and international awards.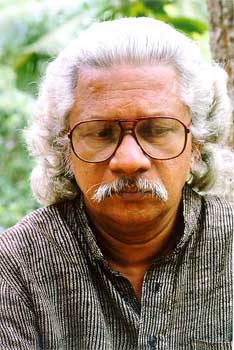 Films
1972: Swayamvaram (One's Own Choice)
1977: Kodiyettam (Ascent)
1981: Elippathayam (Rat Trap)
1984: Mukhamukham (Face to Face)
1987: Anantaram (Monologue)
1989: Mathilukal (The Walls)
1993: Vidheyan (The Servile)
1995: Kathapurushan (Man of the Story)