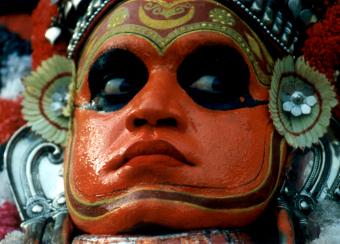 KALIYATTAM
The play of God
---
Rajasekharan Jayaraaj Nair
1997
---
Production: New Generation Cinema

---

Script: Balram Mattanur
Camera: M. J. Radhakrishnan
Music: Gautam Mukherjee
Edited: B. Lenin, V.T. Vijayan
Starring: Suresh Gopi, Manju Warrier, Lal, Bijumenon, Bindu Panicker

---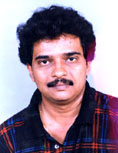 The young Malayalam director Jayaraj adapted the main theme of Shakespeare drama Othello against the backdrop of Theyyam. Each year Theyyam festivels take place in North Kerala. After trance-like dances in extremely lavish outfits, villagers are given the opportunity to settle current village business with the 'gods'.

Suresh Gopi as Kannan Perumalayan gave an unforgettable performance in this movie. The story revolves round Kannan and Thamara, the pretty daughter of the village head. Clouds of trouble surround them soon after they elope. While Unni Thampuran hates Kannan because he had a crush on Thamara, and Paniyan who plays a comic character in Theyyam is envious because he has the coveted role of Theechamundi. Through different ploys, Paniyan sows the seeds of doubt about Thamara's fidelity in Kannan's mind. He suspects that Thamara and his assistant Kanthan are having an affair. He goes wild with rage when spots a silk robe, which he had presented to Thamara, in Kanthan's hands; of course it was Paniyan's plant.

Torn between grief and anger over what he takes to be Thamara's betrayal, Kannan takes her life. On the same night, the wily Paniyan gets Kanthan killed by Unni Thampuran and then kills Thampuran, too. It is too late when Kannan realises his folly from Paniyan's wife Cheerma, who is also murdered by Paniyan. Kannan wreaks revenge, reducing Paniyan to a 'vegetable' so that he atones for his sins through a life of misery. Kannan then embraces the ritual fire of Theyyam.

Suresh Gopi comes up with the best act of his career while Manju Warriar puts in a performance befitting a Shakespeare heroine. Also, Lal, a film director who along with Siddique made many a commercial blockbuster, gave a great performance in the villain's role.